Unitext exclusively delivers BT Award Winner 2007 & 2008  
to 3rd Level for Crisis Event Management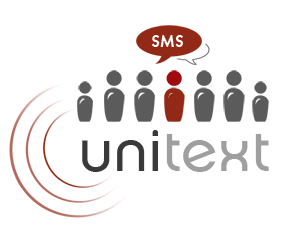 Unitext Overview
Unitext is the result of extensive research and development with respect to the application of text messaging in a 3rd level environment. Unitext is focused on three main areas:
Student Support Services for greater student retention and welfare
Unitext enables Student Unions and support services to send a text message (and email) or voice mail to one or all students for any number of reasons such as:
Career Guidance
Counselling Services
Bullying
Attendance
Health & Safety
Change of Schedule
Important Notices
Interactive Voting / Canvassing e.g. Students can be invited to text their vote / opinion to 53305
Independent research has shown that because SMS text is such a personal medium that the response rates are extremely high compared to email alone.
Faculty & Administration Communications & Support Services
In addition to Message tracking and History Reports that can easily be generated, the faculty can also define other criteria for reporting e.g. Student History File, Attendance, Emergency contact information, Medical Requirements / History, etc. which can be imported from current databases.
Unitext enables both SMS text with Email and the facility to leave an urgent message as a voice mail to any number of students e.g. Please note that your end of year work is due in by next Friday 12th May, Prof. Brady, Physics. This message can also be left as a voice mail for the visually impaired.
Crisis Event Management
How does it work?
In the event of a crisis at a third level institution, e.g. a fire on campus, poisonous leak etc. the following occurs:
The Crisis Event Alert is activated by the Dean / President or any authorised member of staff texting a security code, already stored on their own mobile, to 53305, or by phone directly.
In less than 60 seconds all students of the college / university / institute are notified by text, email and /or voice mail, and asked to respond by text or press the digit one on their phone to confirm their safety etc.
The students 'OK' reply activates their response on the system and the Unitext Web Site displays their name and that they have confirmed that they are OK. Authorities and parents can see this information instantly on the UniText.ie web site.
Instant Conference Call Activation
The system will automatically call every mobile on a designated list – e.g. Faculty Heads, Garda, Fire Department etc and bring all of these calls instantly into a single virtual Conference Room where the crisis can be discussed and prompt action taken in a co-ordinated manner.
About Unitext
Developed by SMS Solutions http://www.SMSsolutions.ie
The first of many deployments is in progress with Athlone Institute of Technology
Crisis Event Management
The Unitext Crisis Event Management Tool is driven by Continuum winner of last years BT Inspired IT & Services Award for 2007 and is short-listed for the ICT Awards 2008.
This Crisis Event Management Software is exclusively available to 3rd Level Education bodies through Unitext and has already been deployed in:
For a White Paper on Continuum please click here http://www.continuumltd.com/data/ContinuumplusExplained.pdf
SMS Solutions Unitext software is already deployed in Irelands largest supplier of text messaging services to Primary and Secondary Level schools, www.SchoolText.ie providing coverage for over 30,000 pupils nation-wide and is a Regtel Approved Service.